10 Most Promising Industrial Control and Automation Solution Providers – 2019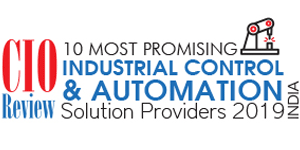 Digital transformation is no more a choice, but a must-have for industrial companies to secure their competitive edge. IIoT is getting closer to reality with increasing maturity and adoption of sensor, networking and analytics technologies. Industrial Automation Control's Products and Systems Section represent manufacturers of mechanical, electromechanical, and solid-state devices, components, and controls. The equipment is primarily used in industrial applications to monitor, control, or actuate power utilization apparatus, including motor regulation. Industrial IoT is a key element of Industry 4.0, or smart factory, which brings together modern cloud computing, IIoT, and AI to create intelligent, self-optimizing industrial equipment and facilities.
Furthermore, the growth of this market can be attributed to the emphasis on industrial automation and optimum utilization of resources, increasing use of enabling technologies in manufacturing, rising adoption of industrial robots in the manufacturing sector driven by collaborative robots and so on. The global factory automation & industrial controls market was valued at USD 164.04 billion in 2017 and is expected to reach USD 261.88 billion by 2023, at a CAGR of 8.4 percent during the forecast period 2018 - 2023. With the rapid increase in competition, customer requirements, and manufacturing units around the world are forced to adopt newer technological innovations and digital transformation solutions to make their business process as efficient as possible. Industry 4.0 is transitioning industries from having legacy systems to smart components & smart machines to facilitating digital factories, and later to an ecosystem of connected plants and enterprises. According to a recent study, over 45 percent of activities that individuals are paid to perform, can be automated. In public transit, SCADA systems are enabled by industrial automation products to ensure that trains and traffic grids remain fluid and decongested.
As IoT is already at its peak, we understand the organizational need to modernize the IT Infrastructure across several heterogeneous sources and technology trends. Therefore, we present to you a list of 10 Most Promising Industrial Control and Automation Solution Providers 2019. Being closely scrutinized by a distinct panel of judges including CEOs, CIOs, CXOs, analysts and CIOReviewIndia editorial board, we believe that these vendors provides industrial solutions which is actively shaping both the business and consumer worlds.
We present to you CIOTechOutlook 10 Most Promising Industrial Control and Automation Solution Providers – 2019.
Top Industrial Control and Automation Solution Providers –
| Company Name | Company Description |
| --- | --- |
| Mastek | The service portfolio includes agile consulting, digital commerce, BI & analytics, application development, support and testing. |
| | |
| --- | --- |
| Accurate Automation and Control | Avails industrial process control solutions & services such as Control Panel Manufacturing and Machine Build Automation. |
| Beckhoff Automation | Delivers comprehensive product range that covers Industrial PCs, I/O & Fieldbus Components, Drive Technology and automation software. |
| ICON Controls | Offers Automation Solutions comprising System Design & Engineering, Erection and Commissioning, Site Management & Monitoring and Plant Instrumentation & Automation. |
| Naraiuran Controls | A provider of Industrial Automation solutions and Manufacturing Engineering solutions. |
| Phinix Automation | Competent in Industrial / Process Automation, Control & Instrumentation, Hardware & Software engineering, Electrical Test Bench Design, Electrical Control Panel design & development and Welding... |
| Prima Automation | Facilitates automation controls of wind turbine, solar plant, asphalt plant, cement batching plant, process plant panels, and electronic instrument. |
| Reckers Automation India | Expertise revolves around Automation, Power & Energy Monitoring Solutions, Instrumentation, Test, Measurement and Engine Testing. |
| Softview Technologies | A supplier of Automation Control systems & software for manufacturing plants and industries. |
| Strategi Automation | Provides comprehensive motion control solutions across industry verticals such as Packaging, Material Handling, Printing, Instrumentation, Engraving and Robotics. |