20 Most Promising Automation Solution Providers - 2017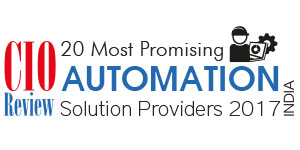 In accomplishing most optimal, easiest and convenient ways for executing our routine tasks, technology has an all-important role. Similarly, automation technology has attained an eminent position in today's business realm by bringing more efficient use of materials, improved product quality and volume, enhanced safety and less human error etc. It is eradicating the necessity of human intervention in diversified areas especially in repetitive tasks including IT support, remote infrastructure and business processes. Owing to significant factors like the rapid adoption of IoT and ample opportunities provided by Industrial Revolution 4.0, global industrial and factory automation market is anticipated to reach USD 221.17 billion by 2021.
At present, technological advancements in robotics, artificial intelligence and machine learning are significantly making a new automation age, thereby the possibilities of ever-smarter and more cost-effective solutions with cognitive capabilities, will be high in future. In such a scenario, enterprises seek for most reliable technology partners who concentrate on bringing innovative automation solutions and follow pragmatic approach.
On account of increasing efforts to make manufacturing processes more efficient, accomplish zero defects and meet global quality standards, nowadays automation technology is becoming an indispensable part of India's every industrial sector. Hence, CIOReview presents a list of "20 Most Promising Automation Solution Providers", to assist C-Level executives in spotting right partner. A distinguished panel comprising of CEOs, CIOs, industry analysts and CIOReview editorial team have scrutinized various companies before finalizing these vendors who offer cutting edge technology solutions to accomplish better productivity, increased accuracy and repeatability, and improved safety.
We present to you CIOTechOutlook 20 Most Promising Automation Solution Providers - 2017.
| | |
| --- | --- |
| ABB India | Provides advanced services, end of life services, engineering and consulting, service agreements, extensions, upgrades and retrofits, maintenance and replacement. |
| Addverb Technologies | Helps retailers, manufacturers and logistics providers build smarter distribution and fulfillment operations, using the right mix of automation, software and labor. |
| B&R Industrial Automation | A provider of Industrial Automation Solutions, IoT and IIoT technologies for packaging and logistics, mobile applications, consumer goods processing, industrial goods processing, and manufacturing |
| Delta India Electronics | A provider of Telecom Power Solutions and Industrial Automation including Automotive Electronics and Renewable Energy Products. |
| GE India | A provider of Industial Internet Control Systems and Software solutions for connected machines, advanced sensors and controllers for verticals of Automative Manufacturing, Pharma nd Life Sciences,... |
| Honeywell Automation India | Offers integrated automation and software solutions, including process solutions and building solutions. Additionally, the company proffers engineering services in the field of automation and... |
| Indrion Technologies | Develops end-to-end solutions from embedded sensor networks to actuator networks and server software with complete customization to customer requirements and infrastructure. |
| L&T Electrical & Electronics Division | A provider for Low Voltage switchgear, Control & Automation solutions, Marine Switchboards & Control Systems, Agriculture starter & controllers, Power quality solutions, and Air circuit breakers. |
| Legrand India | Extends its services with products and systems for electrical installations and information networks for living and work spaces; innovative solutions for residential, commercial or industrial... |
| Naraiuran Controls | A provider of Industrial Automation and other solutions. |
| Nelco | Offers solutions in the areas of Integrated Security & Surveillance, VSAT connectivity, Managed Services, Satcom Projects and Meteorological Solutions. |
| Rockwell Automation | A provider of Industrial Automation and Information solutions and services with capabilities in Consulting and Integration Services, Industrial Networks and Security, Process Solutions and more. |
| Rolta India | The company develops state-of-the-art digital solutions incorporating rich Rolta IP in the areas of cloud, mobility, IoT, BI and big data analytics. |
| Sarla Technologies | Delivers Industrial Automation, PLC, DCS, SCADA, CAD, Safety, MES, MII Engineering, Software Development & Testing, and Electrical & Instrumentation Engineering Design Services. |
| Schneider Electric India | A provider of Energy Management and Industrial Automation solutions that includes products for Industrial Communication, Feeder Automation, Busway And Cable Management and more. |
| Siemens India | A pioneer in infrastructure and energy solutions, as well as automation and software for industry. A provider of business-to-business financial solutions,rail automation and wind power solutions. |
| Titan Automation Solution | A provider of solutions for Fully Automatic Lines, Lean ssembly Cells & Semi Automatic Lines, Test Rigs, Robotic Welding Cell, Robotic Assembly Lines, Vision nased Systems and more. |
| Valethi Technologies | A provider of Robotic process automation (RPA) service to reduce the turnaround time for various work flows and increase operational efficiency |
| Voltas | A provider of Engineering Solutions with specialisation in areas of Heating, Ventilation and Air Conditioning, Refrigeration, Electro-Mechanical projects. |
| Vortex Engineering Private Limited | The company facilitates banks with a broad range of Automated Teller Machines (ATMs) and associated services required by banks. |