20 Most Promising Automation Solution Providers in India- 2016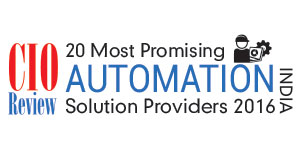 To keep the business running smoothly, enterprises have to pay attention to how their underlying processes are being managed. Through automation, organizations can integrate different office applications, manufacturing workflow, restructure labour resources and redefine the overall workflow steps to achieve the desired outcome. Hence, automation seems to make perfect sense for any business. This is because it not only creates huge efficiencies but also nearly eliminates the possibility of human error. Although automation solutions offer tremendous benefits, but there is an urgent demand for such automation solution providers who have the capability to handle the tasks of automation in areas such as business process, testing and manufacturing and among others. Companies nominated in this issue have expertise in providing Industrial Automation Software Solutions, Business Process Automation in areas such as HR and Tax Compliance, Audio-Video System Integration Service and Automation Engine for Software Testing. With numerous automation solution providers in the market, it apparently becomes difficult for enterprises to opt for the right and relevant one. CIOReview as the navigator for enterprises provides a clear picture of emerging Automation Solution providers in India. This issue of 2016 focuses on innovative automation solutions provided by technology vendors for improving various business processes, testing process and manufacturing methods. We present you the list of 20 Most Promising Automation Solution Providers in India. Each company in the list has unique qualities and strengths in providing automation solutions in different ways. A distinguished panel comprising of CEOs, CIOs, VC, analysts and CIOReview's editorial board have finalized the list. The list will enable enterprises to get a clear picture of emerging automation solution providers in India.
We present to you CIOTechOutlook 20 Most Promising Automation Solution Providers in India- 2016.
| | |
| --- | --- |
| ABB Ltd. | A provider of power products, power systems, automation products, process automation, robotics solutions and among others. |
| Automation Engineers A.B | A provider of consultancy, planning and implementation of Automation Solution using latest technology and in accordance with international industry standards like UL,DIN, CSA, etc. while providing... |
| Avaya India | A provider of unique combination of an Enterprise-wide fabric and open SDN technologies to automate most of the network on boarding process. |
| B&R Industrial Automation | A provider of Industrial Automation Products. The company is involved in manufacturing sales ans service of industrial automation products. |
| BCH Electric Limited | A provider of Low Voltage electrical & electronic controls, and solutions for power distribution, automation, enclosures, brakes, starters and mass market products. |
| CICC Automation Technologies | A provider of Building Management Systems, Unified Lighting controls, Conventional and Addressable Fire Alarm Systems, Public Address and Voice Evacuation Systems, IT infrastructure, Video... |
| Crestron | A provider of automation and control solutions for buildings and homes and integrating systems such as A/V, lighting, shading, IT, security, BMS, and HVAC to provide greater comfort, convenience,... |
| Eco Tracksys Limited | A provider of RFID based solutions to automate Library Management, Asset Management, Vehicle Tracking, Campus Management, Weighbridge Functionality, Parking Management and Club Management. |
| Elpis IT Solutions | A provider of innovative products in Industrial Automation segment who is partnered with Software Toolbox Inc., USA in industrial automation to bring best in class products to India. |
| Enhops Solutions | A provider of tools and test automation solutions and meets customer challenges with well-defined test automation methodology. |
| Godrej Efacec Automation & Robotics | A provider of intelligent warehousing solutions, automated storage & retrieval systems (AS/ RS) suitable to Indian logistics industry. |
| Honeywell India | A provider of cost engineering, software development, control products, process knowledge systems, safety systems, building solutions, security solutions etc. |
| Legrand India | A provider of electrical & digital building infrastructure solutions with expertise in home automation, door entry, lighting management system, cable management & structured cabling products. |
| Paloji Technologies | A provider of web solutions & business automation in which the company is involved in every stage of design, development, implementation to completion & offering continual functional and technical... |
| Rockwell Automation | A provider of automation solutions with expertise in Industrial Automation, manufacturing, safety products, automation systems, and drives. |
| Siemens India | A provider of electrical & electronics engineering solutions with expertise in automation, drives, motors, lighting, rail transportation systems, healthcare etc. |
| Sigma Byte AV Solution | A provider of Audio Visual Design Solutions and System Integration while offering Complete Home Automation. |
| Udyog Software | A provider of tax automation products and solutions for both direct & indirect taxes and a leading consultant in tax automation and tax planning. |
| Yethi Consulting | A provider of test automation suite which enables rapid execution of various test cases without any end user supervision and intervention. |
| ZenQ | A provider of Functional or Regression Testing, API Web Services Testing, ERP, CRM App Performance Testing, Mobile Apps Testing, Security Testing, Test Automation and Mobile App Penetration Testing... |